Programming.Guide
Currently serving 350 high quality, concise, examples-first, articles on Java, Go and algorithms.
Authors
Background
Back in the days there was a popular site called Example Depot. It was a great resource for ready-to-use code snippets, conveniently available for copy/paste. It was also straight to the point with example code up front.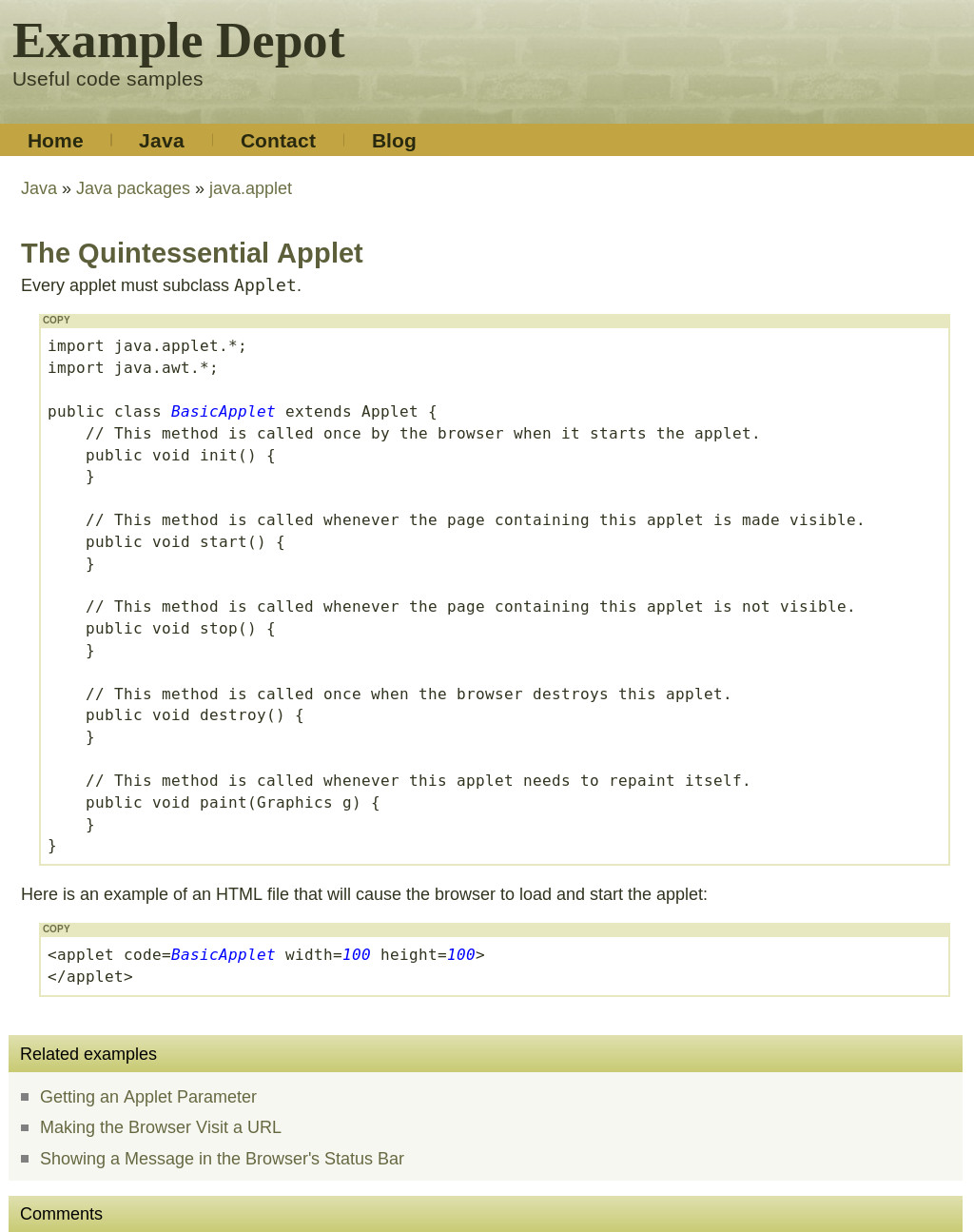 The site died and along came Stack Overflow which is now the dominant online resource for programmers. Stack Overflow is great, the founder of Programming.Guide is in fact among the top 100 contributors. But Stack Overflow has its drawbacks. The quality is not what you'd like it to be, and the best answer is not always found at the top. It's also entirely problem / solution oriented as opposed to example snippets / "cookbook" oriented as Example Depot was. An attempt to cover this niche was made with Stack Overflow Docs. The philosophy behind SO Docs was good; concise and to-the-point articles with examples-first. It failed to deliver however, and the project was discontinued in August 2017.
Programming.Guide site is an effort to cover the nische that Example Depot once did. The ambition is to provide high quality articles on the subject of programming. Quality and examples up front is the mantra. Initially the focus is on Java and Go fundamentals since that's the domain of expertise of the current authors.
License and Disclaimer
The content of this site is licensed under a Creative Commons Attribution 3.0 Unported License
THE CODE ON THIS SITE IS PROVIDED BY THE COPYRIGHT HOLDERS AND CONTRIBUTORS "AS IS" AND ANY EXPRESS OR IMPLIED WARRANTIES, INCLUDING, BUT NOT LIMITED TO, THE IMPLIED WARRANTIES OF MERCHANTABILITY AND FITNESS FOR A PARTICULAR PURPOSE ARE DISCLAIMED. IN NO EVENT SHALL THE COPYRIGHT HOLDER OR CONTRIBUTORS BE LIABLE FOR ANY DIRECT, INDIRECT, INCIDENTAL, SPECIAL, EXEMPLARY, OR CONSEQUENTIAL DAMAGES (INCLUDING, BUT NOT LIMITED TO, PROCUREMENT OF SUBSTITUTE GOODS OR SERVICES; LOSS OF USE, DATA, OR PROFITS; OR BUSINESS INTERRUPTION) HOWEVER CAUSED AND ON ANY THEORY OF LIABILITY, WHETHER IN CONTRACT, STRICT LIABILITY, OR TORT (INCLUDING NEGLIGENCE OR OTHERWISE) ARISING IN ANY WAY OUT OF THE USE OF THIS SOFTWARE, EVEN IF ADVISED OF THE POSSIBILITY OF SUCH DAMAGE.